More Hugo:

Available in e-book...





And paperback...

Browser Books
2195 Fillmore St.
San Francisco, CA 94115
Pacific Heights
ph 415 567-8027
View map

ISBN-13: 1-461-02081-6
News & Updates
Greetings from Wordstock 2012
October 20, 2012

Took a trip to Portlandia with Hugo Storm. Had a blast. Ate great food. Read. Discussed. Met some fantastic authors.
Recap here »
Photo stream on Facebook here »
---
Wordstock 2012: Hugo's heading to Portland
September 1, 2012
Jeff's taking Hugo up north to participate in Wordstock 2012, the sixth installment of Portland's annual book festival, Oct 11 - 14, 2012.
I'll be appearing:

11am, Sat Oct 11
Panel: Digital Press

2pm, Sat Oct 11
Reading and Booksigning
Check out the Wordstock site for the full festival schedule.
---
Summer Book Report: Two for Two!
June 18, 2012
One of my favorite non-book bloggers, GoodStuffNW, has added HugoSF to her summer book report. See her post: Summer Book Report: Two for Two!
---
A Day in the Life of SF
February 5, 2012
San Francisco features so strongly in HugoSF that it's really a character unto itself. Naturally I was delighted to see this beautiful visual tease for our great City from the SF tourism bureau.
Source: http://youtu.be/KCpeKanDXHU
---
Sony Reader fans … the wait has ended
January 25, 2012
I know, it's shocking but it's true. And the predominant burden for the delay rests with me.
Regardless, I'm delighted to announce that HugoSF is now available for Sony Reader at the Sony ReaderStore: http://ebookstore.sony.com/ebook/jeffrey-hannan/hugosf/_/R-400000000000000592037.
Download a copy, write a review, send me a note…As always, thanks for your support.
---
Give a little NOOKie
January 17, 2012
HugoSF is now available for NOOK on the Barnes + Noble website: http://www.barnesandnoble.com/w/hugosf-jeffrey-hannan/1102120257
For anyone who is interested, I used smashwords to create the epub and distribute it. Their MS Word / epub converter tool was pretty easy to use; easier and much less time-consuming than hand-building the epub files. (That ridiculous endeavor was my autumn. Never again….)
Too soon to report back on the smashwords experience, but so far it's been good. It helps to have a distributor.
---
Grab your iPad; HugoSF is on iTunes
January 10, 2012
Sometimes the most interesting route to somewhere is the long, circuitous, ever-doubling back route. When it comes to self-publishing, though, I recommend the expressway.
It is with great interest, then – and delight – to announce that HugoSF is finally available on iTunes. Journey the roller coaster with Hugo Storm on iPhone, iPad, or iPod touch.
Get HugoSF on iTunes: http://itunes.apple.com/us/book/hugosf/id493262147?mt=11
---
HugoSF now available @ Browser Books in SF
December 19, 2011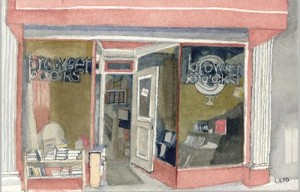 Browser Books, 2195 Fillmore St., Pacific Heights SF
The very supportive, book-loving gang at Browser Books is now carrying HugoSF in paperback. Thanks to Steven, Fred and team for giving Hugo a lift.
Browser Books is located in Pacific Heights at 2195 Fillmore St., San Francisco, CA 94115.
Stop by and say hello. Browse the aisles. Grab a little something for your Christmas list, or for yourself.
---
Book Launch Party pics – 11/10/2011
November 13, 2011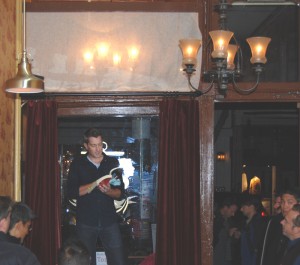 Jeffrey Hannan reading from HugoSF
10 Nov 2011, 2 Sisters Bar and Books, SF
Hugo's quasi-miraculous emergence
After a few months of soft launch, it was time to officially launch HugoSF, including the new cover art by Sharee Robinson of MyGroove Design, at 2 Sisters Bar and Books in Hayes Valley, SF.
Check out the pics from the Book Launch party. (Opens the Facebook gallery in a new tab/window.)
---
Occupy this: HugoSF Book Launch
November 8, 2011
Happy Hour with Hugo
The HugoSF Book Launch Party
Thursday November 10, 2011
6-8.30pm
2 Sisters Bar and Books
579 Hayes Street
San Francisco, CA 94102
(btw Laguna + Octavia
in scenic Hayes Valley)
Beer, wine and happy hour comestibles will be served.
The public is welcome!
Check out the invitation and details.
---
New Cover! 2nd Edition released Oct 2011
November 5, 2011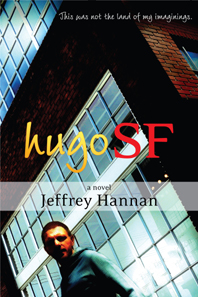 Hugo has a new look. Sharee Robinson of MyGroove Design has graciously donated her time and talent in creating vibrant new cover art for HugoSF.
Inspired by the same setting that was featured on the 1st edition cover, Sharee has brought dimension, humanity (and angles!) to Hugo. Or as Jane, the bunghole pestering library scientist, would say: layers.
The cover is actually a photograph shot by Jennifer Marvin of JM Images and features my neighbor Raoul as a stand-in for Hugo.
The 2nd edition is available in paperback. Kindle and ePub updates will submitted any day now.
---
Save the date! Book launch – Th Nov 10 2011
October 12, 2011
Looks like the official launch party for HugoSF will be Thursday, November 10 2011. We'll be at the enchanting new 2 Sisters Bar and Books lounge in Hayes Valley, SF. Estimated timeframe: 5:30 to 8:00. More details once we've inked the deal. So to speak.
---
ePub Breakthrough
October 9, 2011
Success! The first demo version of HugoSF in epub format worked. After revisiting jedisaber's tutorial, I managed to create and review a working version of the book in Adobe Digital Editions.
Piece of cake (he said, omitting countless details out of avoidance or simply grey matter fatigue).